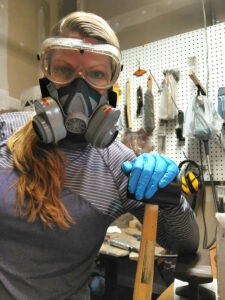 The functional art I create is handcrafted in Fort Collins, Colorado. To make the wearable art, I first create the design in Illustrator (a graphic design program in the Adobe Creative Suite). Then I use a special heat-transfer technique to apply the design onto the metal. The piece then goes into acid which eats into the metal around the design but leaves the design itself intact. After the etching process is complete I hand file and sand the edges of the metal. I use a torch to anneal the metal, so it is soft enough to bend, and hammer it into shape using a mandrel.
Some pieces are stained with a dark patina and other colors to emphasize the details of the design and to give it a unique look. They are then sealed with a metal sealer to help preserve the colors. To gain the benefits of the antimicrobial properties of copper, as well as the other claimed health benefits, the pieces can be left unsealed if you prefer. Left unsealed, copper will naturally patina over time, which some people prefer the look of.
Each step of the process requires some and often times multiple forms of PPE (Personal Protective Equipment) to help protect my skin, eyes, lungs and ears.
Years of experimenting with and fine tuning each process has led to the intricate details and colors you see in my pieces.
Be sure to subscribe to my YouTube Channel today so you get updates on my jewelry technique videos, as well as other content, here: http://bit.ly/30GFGcA